Description
Glitter Unicorn Tutu Set for newborns
Take the most memorable photos of your cute baby model's first year milestones!
Are you looking for cute milestone photo props for your baby girl? Look no more because here is the perfect unicorn tulle tutu skirt set for newborn girls between 0 and 9 months old. You can dress your baby with this glittery tutu and a cute top for many occasions, including birthday parties, weddings, and more.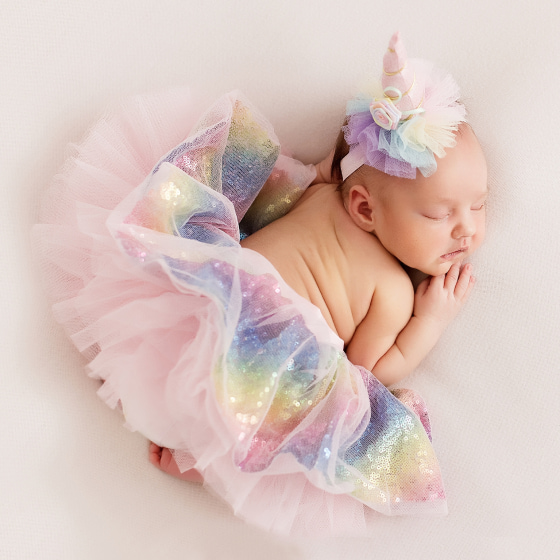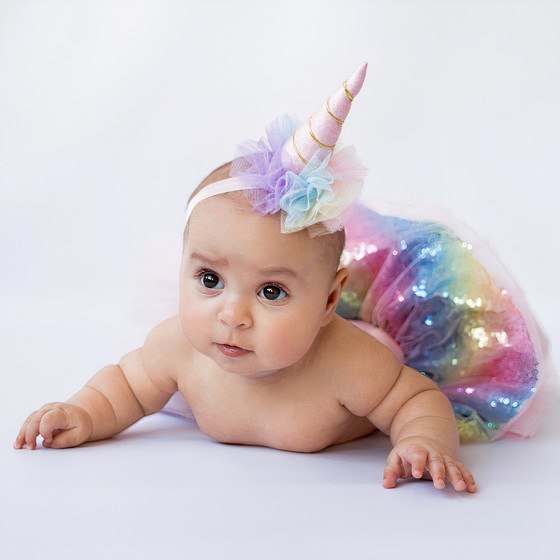 Newborn Unicorn Tutu Set: features and details
Make your baby look like a true princess!
The complete set
The beautiful set includes a fluffy glittery tutu with a waistband and a unicorn headband. It is ideal for 0-9 months newborn baby girls.
The cutest milestone photo prop
This sparkly unicorn tutu outfit is the perfect photo prop for your baby's first year milestones! Simply dress up your baby and she will be photo-ready! The unicorn outfit is also ideal for special occasions and celebrations.
Your baby will be cute and comfortable
All the pieces of this beautiful tutu baby outfit are made with premium soft materials that are absolutely safe for your baby's sensitive skin. The fluffy tutu skirt and the pretty headband and accessories are also elastic, lightweight, and breathable.
A cute gift for newborn baby girls
Have you been invited to a baby girl's first birthday party or, let's say, a baby shower o a gender reveal event? This unicorn tutu tulle skirt set is the perfect gift choice for any of these (and more!) occasions, and you can rest assured that the parents of the baby will absolutely love it!
So what are you waiting for?
Place an order as soon as possible and get the baby tutu set for your baby, granddaughter, niece, godchild, or the baby of a friend.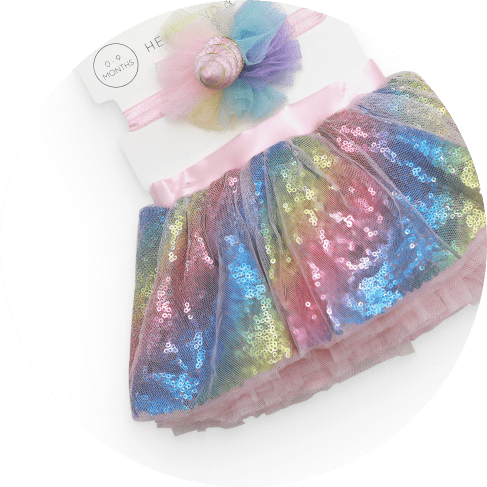 About JLIKA
Making Your Little Angel's World A Bit Brighter! To Liliya, founder of JLIKA brand, creating unique baby accessories was a passion. Eye-catching, original & inspiring, her headband kits turned heads. So, what started as a creative pastime soon became her business core. She established JLIKA, to brighten the world of your little adventurer with addictive design products. Jlika Invites You to Explore The Mom&Dad-Approved Baby Collection!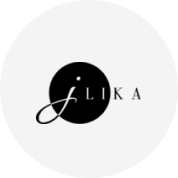 Designed In
Greer, South Carolina
Absolutely adorable! Perfect for a baby photo shoot! The skirt ties so it is adjustable.

I can't wait to give this to a friend who is expecting soon. I looked at so many unicorn outfits like this for newborn photos. This is the only one with the colors I was looking for and I am so glad I found it

This was a beautiful set that looked perfect for her monthly photos! Fit great and was adjustable so shell definitely be wearing it again

The skirt was too large, but my daughter is very small, the Quality was great and it looks just like the picture!

Perfect Halloween costume for an infant! My daughter wore this when she was 3 months old weighing approximately 13 pounds at that time. The tutu is adjustable in size, a stretchy comfortable elastic. We live in FL and it was quite hot on Halloween and she was very comfortable being outside in this costume! The material is a decent quality and you can't beat the price!

Looks exactly like the picture, definitely doesn't look cheaply made. I told my fiance since there is no reviews I would definitely write a good one if everything came like it should. Would buy again!!

It is a little big but she was 3 weeks old when I put it on her. It says to 12 months so we will get to use it as she gets bigger.

I bought this for my newborn daughter. Her name is Luna and her brother calls her "Lunacorn", so she was a Lunacorn for Halloween this year. The skirt was a smidge big, but it is a tie closure so it can be adjusted as needed. The headband fit well on her average-sized head. Like I said she was a newborn, about a week old at Halloween, but I think it will still fit older babies. This is good because I have been planning on doing a little photoshoot with her in this costume and haven't gotten around to it yet. Overall good quality, well made. I was worried it would be cheap-looking when I ordered because of the price, but it is not! Totally adorable!