Description
Designed for stylish looks
Your new favorite accessory
The striking design of the ball chain together with the stunning tooth pendants will add the ultimate modern touch to your regular outfits.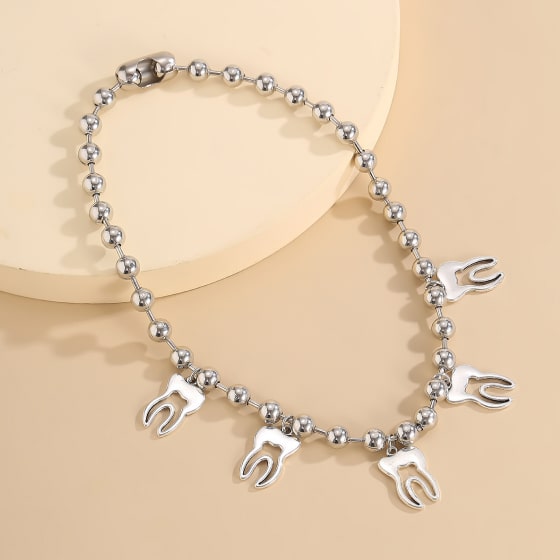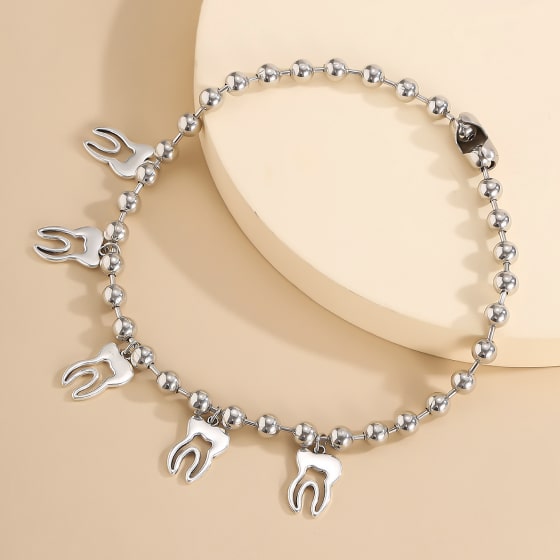 Tooth be told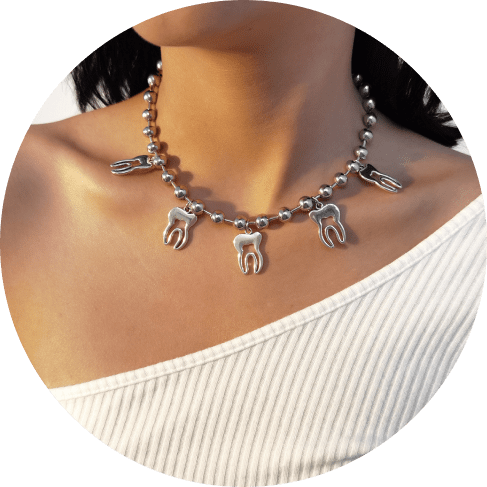 Necklace details
Color: silver-toned. Material: zinc alloy. Type of chain: ball. Length: 15.7 in + 2.8 in. Weight: 0.9 oz.
Care tips
Store in a dry place in a ziplock bag. Wipe with a soft cloth. To prevent your skin from turning green, coat the necklace with clear nail polish before wearing.
An excellent gift
A bold design of the Tooth Choker Necklace won't leave anyone indifferent. This gorgeous accessory will perfectly highlight a lady's collarbone and skin tone. It'll become a stunning addition for both casual and fancy outfits. Make your significant other feel confident and desirable!
Wonderful necklace, I wear it constantly. The teeth are made well, look great. You can set any length, although make a choker of it. I'm happy with the order, a wonderful necklace.

the necklace is super cute :D the chain is long enough to fit my neck, which is pretty wide. the tooth charms look great

I like it so much, I didn't expected it to be that good. I bought it as a gist and now want to buy it for myself!

I liked it very much, but the teeth are a little less than I expected. But the color of the metal is nice.

I am absolutely in love w/ this necklace! It's so so cute and totally worth it for the price.

This necklace is so cute I love it. It looks great, just like the picture. Very shiny.

super cool! was smaller than I expected but I actually like it better that way!

Metal, of course, is too shiny. Therefore, it does not look very expensive.

Everything is super, the quality is excellent, looks awesome!

This is so stylish and unusual, I like it!

Everything is nice, the chain is good.

Nice necklace, very stylish.