Description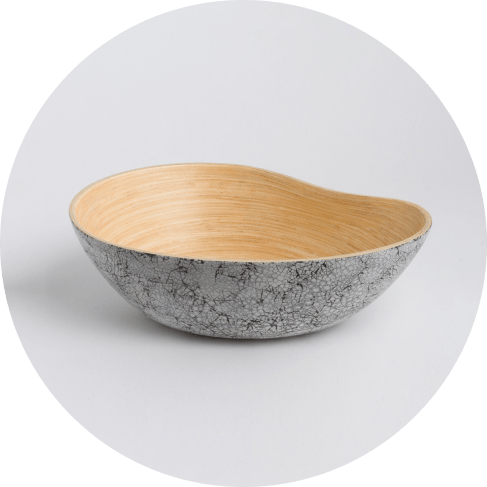 Soai Bamboo Serving Bowl
This large asymmetrical, graceful, and slender dish gets its shape from mango. As elegant for bread as for a salad or a hot dish, Soai can also be used as a fruit bowl. Its shape is very convenient thanks to its spout side. Indoors or out, this chick matte colored bamboo serving bowl offers streamlined style and versatility.
Soai Bamboo Serving Bowl: features & details
Dinner time, redefined
Ideal for every meal
Measuring 10 1/4" x 3", our Soai Bamboo Dining Bowl can contain liquids, solids, hot (up to 158°F) and cold food. Light and durable, these bowls will be perfect for breakfast, small entrée, cereals, and even soup.
Stylish and chic
Our uniquely crafted mango bowl is one of a kind. Featuring a stunning natural texture, it adds a modern and minimalist note to any table setting. The bowl is polished to perfection, ensuring a timeless design that looks outstanding in a modern home.
Eco friendly, sustainable & biodegradable
Our Soai Bamboo Bowl is 100% natural as it is made without solvent or organic volatile compounds. Entirely handmade in Vietnam according to fair trade principles, it may show slight variations in color or shapes as each bowl is unique.
Care guide
Handmade, hand wash! Use hot water, dish soap, rinse and wipe carefully after cleaning. Do not let the product soak in the water. Dry right away with a soft dish. Do not let air dry. Do not put it in the dishwasher or microwave.
Makes a lovely gift
If your friends or family members prefer boho or organic products, they'll absolutely love this natural Soai Bamboo Dining Bowl as a gift!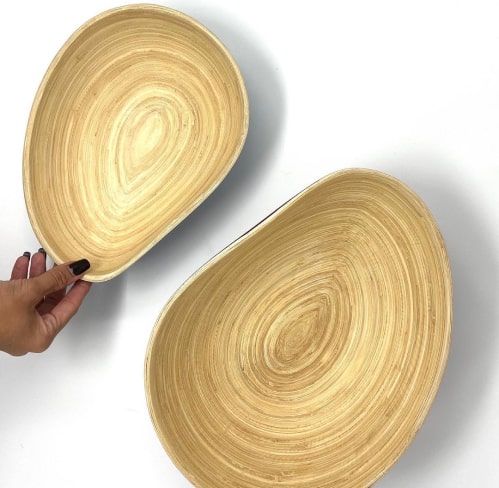 About Bibol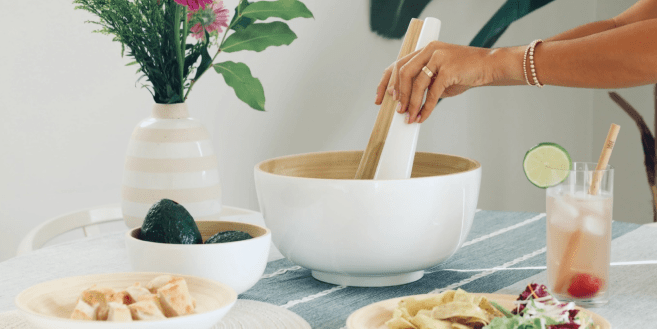 In the late 70s, Little Moon was 13 years. She left Vietnam for France. After 20 years of working in France, she returned to her homeland with her husband. Together, they visited all of Vietnam because she only knew her village. This trip gave them the idea of developing a fair trade company to import the ancestral knowledge of Vietnamese artisans to France. We are the only company with truly 100% natural, food safe & handmade bamboo wares in Vietnam. Combining the tradition of Vietnam in bamboo spinning and ecological technics, we have developed a sustainable and fair trade company. We offer a full range of serving dishes for everyday and entertainment. Our bowls are not only pretty but they are useful! They can sustain hot as well as cold food inside. They are easy to wash by hand and come in many different sizes and colors.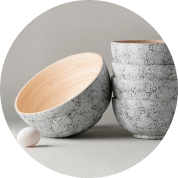 Designed In
Los Angeles, California
Nice big bowl for a Caesar salad.

This is a really nice wood bowl. Very deep and give lots of room to toss a green salad.

This bowl is beautiful. Good quality. I just purchased a second one for a housewarming gift!

Little larger than expected but still a great bowl.

I bought this for a family member. She really loved it, so I bought one for my brother. It's beautifully crafted -- a bargain for the price!

Nice bowl. I think the description called this a "serving bowl". It is not that. It's more the size of a cereal bowl. It serves my purpose as I bought it to hold epsom salt next to my bathtub. See photo for size reference.

This is a beautiful item. I found it great everyday and at dinner parties it made an impression! But not enough for a large number of guests. However, it's still worth your money!

This bowl is beautiful and holds a large salad easily. I hand wash it and allow it to air dry. After drying, I have occasionally rubbed it with a light coating of olive oil as I do my cheese and charcuterie boards. I would recommend this salad bowl!

I love this bowl! I placed it on an antique wooden table near the front door so we could toss our keys and miscellaneous items in it and not damage the table. It's a cute bowl and the keys haven't scratched it after daily use. I liked it so much I bought another one!

I bought this bowl with the intention of using it for salads. When it arrived, I was surprised to find that it was much larger than I anticipated. This is more of a serving bowl. It's beautiful though! I have been using it to store fruit. It adds a lot of charm to my countertop.

This bowl looks great and is well made. Finish is smooth. The bowl is surprisingly large. Salad for our family of 5 (3 of which are smaller children) fills it less than halfway. Would be great for a big salad with guests, serving rolls, holding fruit, or something else along those lines. My wife loves it and it looks good on the counter.

This is a beautiful lightweight bowl. I didn't purchase the bowl for its intended use, and use it as a place to empty my pockets when I get home each day. It looks nice on my dresser and holds my wallet, pocket knife, cigar cutter/lighter, keys, and cash.. with room to spare. Hopefully that gives you a perspective of its capacity. It's high quality and appears that it will last a lifetime with proper care.

Beautiful bowl, just as described. I've treated it with John Taylor Butcher Block Conditioner, food grade, because we use the bowl to store our fresh fruit until it ripens. This way, I'm hoping that the moisture from the fruit will not harm the wood. It's large enough that it holds a lot of fruit, which is good,and if we decide to use it as a salad bowl, it will hold a large salad, enough for a big group. We keep the bowl on our kitchen counter, and it looks so pretty.

Oh my gosh, these are beautiful. The quality ,style,design and the perfect wood it's what I love. I almost flipped when I opened them. I bought them for my daughter not knowing if she would like this particular wood and came to find out it's her favorite too. I had no idea it was her favorite and she was wanting a large serving bowl. She will flip when she gets it. It's a house warming present to her and her husband.I also purchased the boat salad set as well. Thank you for such a beautiful product.