Description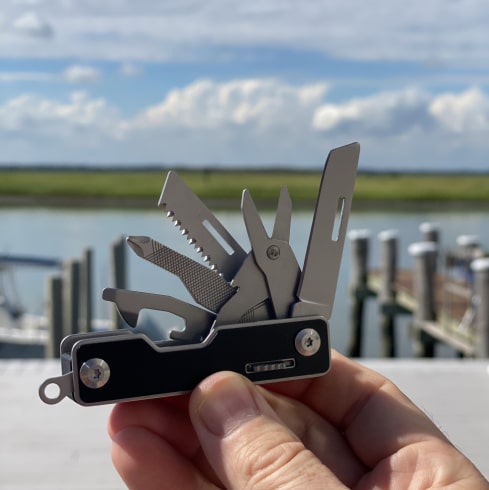 Pocket Eight Multi-Tool
Whether you're an ordinary driver or an experienced traveler, it's critically important to have a tool that can get you out of an emergency situation. But how to choose the one that will suit your needs perfectly? Well, look at the Pocket Eight Multi-Tool by Defiance Tools. It definitely deserves your particular attention!
Pocket Eight Multi-Tool
Versatile and practical multi-tool device
The multi-functional tool you need
It includes 8 components: saw blade, bottle opener, can opener, slotted screwdriver, Phillips screwdriver, nail file, scissors, and a knife.
Pocket-friendly shape
The Pocket Eight Multi-Tool by Defiance Tools folds up into a unique pocket-friendly shape which includes a key chain loop.
Easy to carry and store
The manufacturer paid particular attention to the tool's travelling-friendly size: closed size – 3", open size – 5", weight – 3 oz.
Super tough materials
It's made of super tough stainless steel and designed with a unique locking mechanism that locks each tool when it's in use.
Compact multi-tool device to take with you
It doesn't matter what a weatherman says, or what your action plan is, it's crucial not to be caught by surprise. This is exactly what Pocket Eight Multi-Tool is designed for!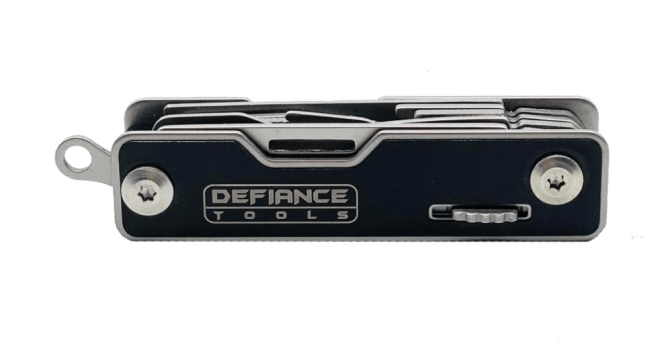 Great product at a great price!

Portable and easy to use.

Nice design, thin, use it for something almost every day

I got this to replace a Swiss Army knife that usually lives in my glove compartment, but went missing. I'm embarrassed to say I mostly used it for the bottle opener. Everything is nice in this tool and it is worth the money. The one thing I don't have confidence in is the bottle opener. I ended up getting a real multitool and a real bottle opener. Threw this thing in my wife's car. It has already come in handy several times.

Very cool knife with a ton of functionality for the price.

I use this for fishing. So far so good and I love all the features. I will order one for my son.

Everything works as advertised. But everything is so close together it takes a few seconds to pick the part to use. If I were in an emergency situation it would not work well. It's a pretty great multi tool but this won't work for self defense.

This is a great pocket knife, it is perfect for my son who is in Boy Scouts. He will find many uses for it on his camping trips. It is made well and will last a long time. Great multi tool for many different uses. Very happy with it.

It was a bit smaller than expected, but sturdy with a good blade. Which is what I bought it for. Compact and well made. Recommended

I really enjoyed the ease of use with this multi tool. Each tool opens nicely and you can quickly change between them. I would definitely recommend this product as an multi tool.

This little pocket knife is perfect to throw in my glove box for those rare times I need a knife or a small tool to open something. I did test the sharpness of the main blade, and it really isn't too bad. Overall, I really like this little multi tool.

I've always had a thing for swiss army knives. Since I lost my last one I got this and this one is good. Has several tools on it. I have this on my office bag and this thing has been useful at least a few dozen times until now. I'm happy with my purchase!

My grandson loved it. It's definitely pocket size, but well made, nicely packaged (makes a quality gift). It has all the bells and whistles, but I believe it's safe for a responsible older child, my grandson is 10. It has a knife, so we had a talk. It would be very handy for an adult too. I bought another for a teen grandson as a gift too.