Description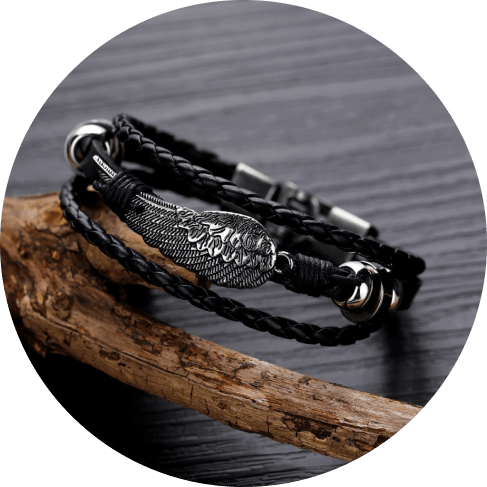 A fashionable accessory
Create an ultra-modern look
With its rugged features and fancy design, this Multilayered Leather Bracelet is a definition of modern elegance and style.
Make a statement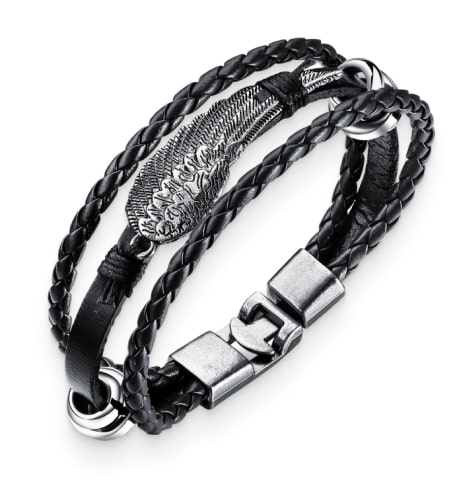 General characteristics
The bracelet is composed of three layers, with the middle one decorated with a bird wing pendant, adding a playful touch to your look. Length: 8.7 in. Materials: polyurethane leather, stainless steel.
Care tips
Regularly clean the bracelet with a soft cloth. Do not soak in water. Store in a flat box away from direct sunlight to avoid accidental scratching and fading.
Your new favorite accessory
Simple yet fascinating, this Multilayered Leather Bracelet is the perfect choice of accessory whenever you want to look your best. It is a beautiful and durable bracelet that looks absolutely wonderful on your wrist. The high-quality materials and comfortable oval shape ensure you will never have to take it off your wrist.
Gotten several compliments on it! It's just the right amount of bling for me and the magnetic clasp works quite well. Good price too.

I love my new wrap bracelet! Just what I was looking for! Really good quality for a really good price! Very happy, thank you :)

This bracelet is so pretty. I love the magnetic clasp. Very stylish. Great looking bracelet and well made. I would buy from this company again.

Exactly as pictured. Comfortable and good quality! Excellent product. Most attractive. Would highly recommend

Very eye-catching, seams like it's made well and was packaged very nice and delivered fast. Thank you..

I bought one for myself, until my husband took it, he wore it out and I just bought it again for him.

Very nice! Looks expensive. Great value. Magnetic clasp works good... easy to get on and off.

Beautiful bracelet, as shown in the picture, neat bracelet

Fits great and looks great! I've gotten many compliments, thought I wish to see a version with a little bit more color

Loved this color. The size was too short for my wrist, but made a great holiday present.