Description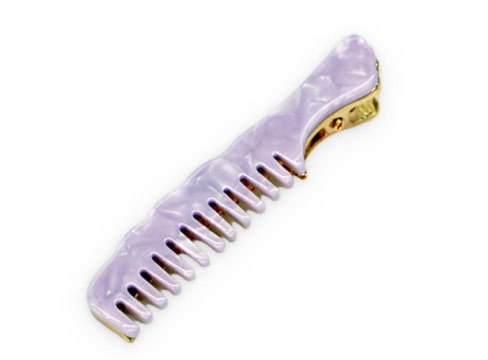 Designed for stylish looks
Pretty & adorable
A cute shape of this Comb Hair Clip together with its lovely lavender color will add the ultimate modern touch to your regular looks.
The accessory made to turn heads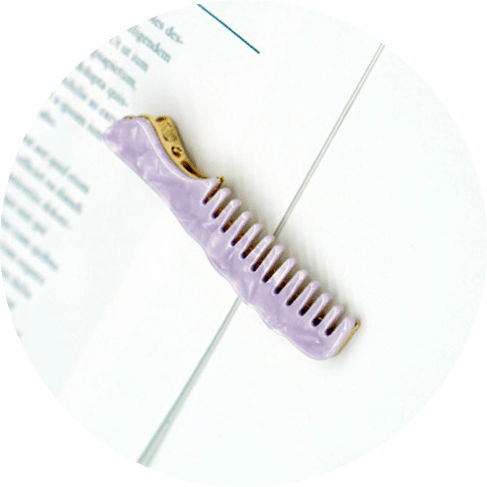 Hair clip characteristics
This charming Lavender Comb Hair Clip is made of resin. Size: 2.4-3.5 in. Weight: 1.2 oz.
Care tips
Do not submerge in water. Store out of sunlight. Avoid exposing the clip to harsh chemicals and cleaning products.
Be glamorous!
This gorgeous Lavender Comb Hair Clip will perfectly highlight your hairstyle. It is a stunning addition for both casual and fancy outfits. Your extravagant look won't be left unnoticed. Add a pop of style to your life!
I like the design, it's very original. I love the color, but it would be cool to have more to combine. I've ordered two of them, they are big enough. The material is quite durable though.

Normal hairpins, hair to the middle of the back of the medium density keeps normally. There is no smell.

I liked it very much, I'm just in love with this hairpin. I have long hair to hold and it does it perfectly. The color is very good, not too light.

The size is perfect, keeps very tight, the color is the same as in the photo.

Good, keeps long hair, the color is more light than I expected

Very beautiful resin part, hair clips look really cool!

Very comfortable to wear, and interesting design

Hairpin is good, everything works fine.