Description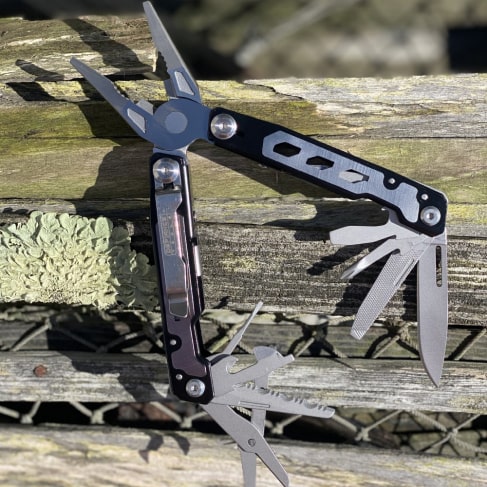 Incredible functionality
The larboard multi-tool can handle just about any task around your home, boat, tiny house, garage, or even on the job site. Its super tough stainless-steel construction with 14 tool functions has just the right combination of weight and precision engineering, so you can feel the quality you've come to expect from Defiance Tools.
The multi-tool specifications
Handles just about any task
14-function lardboard multi-tool
The Larboard Pliers Multi-Tool includes: spring-loaded flat nose pliers, pipe grip pliers, wire cutter/stripper, #2 screwdriver, eyeglass screwdriver, #2 slotted screwdriver, #5 slotted screwdriver, knife, serrated knife, scissors, bottle opener, file, ruler and can opener.
Perfect gift
Whether this is for your father, mother, husband, wife, son, daughter, boyfriend or girlfriend, the multi-tool makes a great gift. It's tough enough for any job site. Makes a great RV or camping accessory.
Premium quality
This every day carry Larboard Multi-Tool is super tough with a stainless-steel body and blades. Features precision engineered and finely stamped parts.
Specifications
Size when closed: 3.75" L x 1.5" W x 0.75" H; size when open: 6.1" L x 2.25" W x 0.75" H; weight: 7 oz. Includes nylon holster/pouch.
A must-have multi-tool
This easy-to-use tool comes with a nylon holster/pouch for convenient carrying. Also, you can use the built-in belt clip to carry it anywhere. It's built from super tough stainless steel that can handle work in any environment, making it a must-have multi-tool.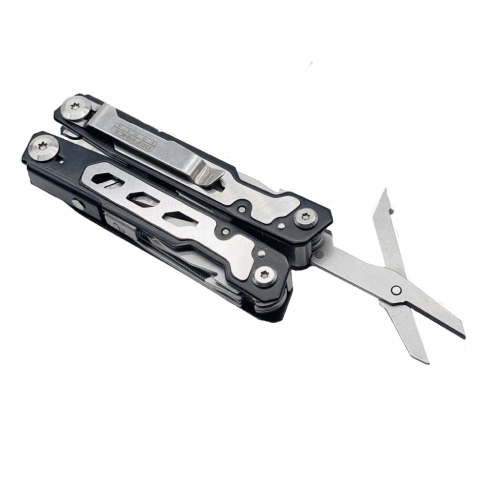 Got this for husband as a stocking stuffer, and it was probably his favorite gift. He has already gotten so much use from it, and it really isn't any bigger than the pocket knife he normally carries, despite having so much more on it. We are farmers, so this baby will definitely serve him well. Scissors were surprisingly sharp!

This is a very convenient tool! I use it every day. You should know, however, that it is a little big. Not prohibitively so, but big and a little heavy, which is expected for a quality tool.

I am an Engineer that sails aboard vessels. These types of tools are a staple due to them being versatile, sturdy and compact. It saves me so much time on jobs. I'm constantly asked if I have my tool on me and I'm constantly telling the guys to either purchase their own or ask for it as a gift from someone!

I can't praise this enough. As a maintenance mechanic I've learned to appreciate this multitool very much. I'll find myself using it in a pinch plenty of times every shift. I don't like to carry around my heavy tool cart, so when I get to go for a work call across the campus and I find out it's different than expected, I can still resolve it with my multitool. I am a very happy customer at that moment.

I have used this thing on the job site for almost anything. I am a home improvement contractor and I use this as a backup when I cannot reach my usual tool bucket as I am on a ladder. This thing holds up to some serious abuse! I dropped it several times on concrete accidentally on a job when I was more than 10 feet up. Just keeps coming back for more. Very impressed! Several guys that work with me have now purchased this same one after using mine

This tool is a life saver. I am not just saying that, I mean it in the literal sense of the word. I am a firefighter/paramedic and I don't leave home/fire house without it. It helps open medical oxygen bottles, cuts through seat belt webbing like butter, and is a really good helper for minor repair jobs. Tested in the toughest emergency situations and comes through each and every time.

My husband is truly the midst difficult person to shop for. He's the type that will love it because I bought it, not because he would have gotten it for himself necessarily. So, birthdays/vd/anni's/Christmas all very nerve wracking times for me. But, I found this little buddy and knew he'd like it. It has all the bells and whistles that a Swiss Army has, with some added extras. He already had several SA knives. I wanted something different. Overall quite pleased to have found this for him! He reacted like I have rarely seen (like "oooohhh, what's this little guy") So it's a hit!!