Description
Avanchy La Petite Bamboo Bowl
Mealtime made beautiful and eco-friendly
Is it time to start your baby on solid foods? Avanchy's La Petite Bamboo Bowl says "Oui!" This little bowl is just the right size for prepping in and feeding from. Serve up first-stage foods in an eco-friendly style. Sustainable bamboo not only looks great and feels good, but also lasts a lifetime with proper care. Not to mention that bamboo is super safe! So, put down the bottle and pick up this trusty bamboo baby bowl by La Petite.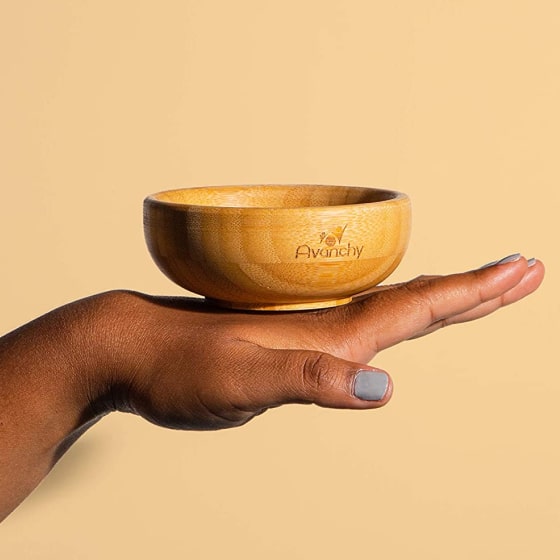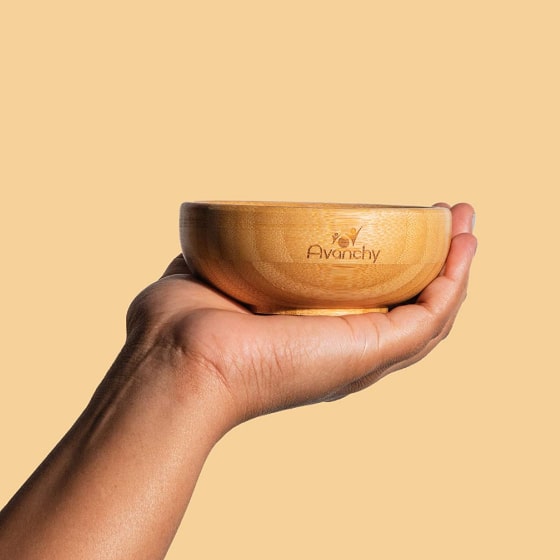 A simpler and safer mealtime
About the Avanchy La Petite Bamboo Bowl
Petite size
The Avanchy La Petite Bamboo Bowl fits comfortably in the palm of your hand so that feeding your little one is a breeze. Serve up the perfect amount of any first-stage food in style with this tiny bowl.
Classic shape, contemporary design
Our mini bamboo bowl for kids features a classic, minimalistic design that is both aesthetically pleasing and sanitary. A perfect gift for young families!
Eco-friendly and safely sourced
Our petite bamboo bowl is sourced from high-quality materials to let you feed your baby safely. Our bamboo baby bowl is free of plastic, BPAs, and other harmful chemicals. Made by parents for parents who are committed to reducing waste and supporting sustainability.
Durable and easy to clean
Our petite bamboo baby feeding bowl is durable and stands up to almost anything. It features a seamless design that is easy to wash and dry. Our health-focused petite bowl is reusable and perfect for all occasions whether at home or on the go.
Key points
Dimensions: 1.5 in. H × 4.15 in. diameter. Weight: 3 oz. Capacity: 5 oz. Plastic-free, BPA-free, BPS-free, PVC-free, lead-free, and phthalate-free Non-toxic, hypoallergenic, and 100% safe for baby feeding.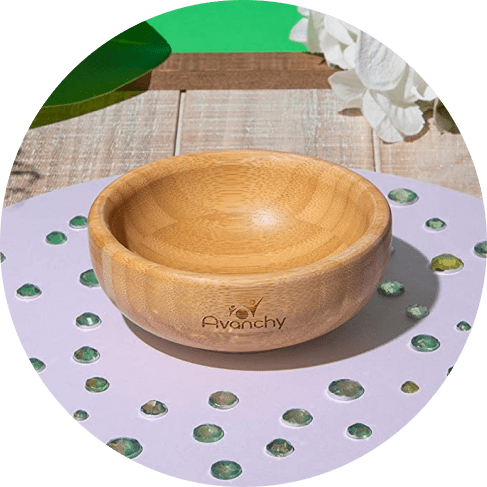 This little bowl is perfect for my baby's purées! It holds just enough. Easy to clean, and I love that it isn't plastic.

Absolutely love bamboo flatware and dinnerware. This is the perfect size for a high chair, and the suction is a beautiful feature 😆 Easy to use, easy to clean, and pretty to look at. Always a win with this brand, this little bowl was no exception.

Perfect size for my 8 month old. Will probably use it as a dip bowl once he outgrows it! Love it!

This Bamboo bowl is sourced from high-quality material and free from BPAs and other harmful chemicals. No plastic smell and well made. My son likes smashed bowls after he is done eating and this one remains solid and no crack at all. The small size and proper depth provides convenience for babies to grab food on their own. Sometimes the food could still be hot when my son is hungry and I'll just scoop out a small portion in this mini bowl and the food will cool down faster.

I got this mini bamboo bowl for my 15 month old daughter as her afternoon tea snack bowl. I am in love with this tiny bamboo bowl when I first saw it. It's gorgeous and delightful!! I am very pleased with the quality of this bowl! It's well-made using premium material. The bowl is durable, sturdy and lightweight. The size is also perfect for my baby to hold in hands. She enjoys picking her snacks out of this bowl. Since it's made of natural material, it's super safe for babies to use for many years. I personally love anything made of bamboo because it's natural and sustainable. I would also keep the bowl years for other dining purposes after my baby outgrows it.

This is so tiny! In fact it's perfect for a toddler, I love this for snacks. I also love the look of it in the fact that I can use it as well now and also when she's older, it's multi-use in that fact and that it doesn't have a bunch of little kid stuff on it and it doesn't look childish. It's bamboo so it looks beautiful for me as well as a dip tray too. My daughter likes this for her freeze dried strawberries. You will be shocked when you see how tiny this is, I was but I fell in love with it. It's thick and it's quality. It's become a favorite for us.

This mini bamboo bowl is just SO adorable. It is really small so it's perfect for snacks for your baby, or you can even use it yourself for sauces for example. There are a lot of ways to use this bowl and I love that because I hate having things at home that I don't really use. My favorite thing for sure is that this bowl is sustainable, safely sourced and BPA free. I always try to prioritize sustainable options when buying things, so this is great. This bowl is gorgeous, simple, safe and so useful. 100% recommend it!

This is advertised as a baby dish, but I bought it for myself. I am using it as a snack bowl. Think chocolate chips, raisins, nuts, etc. This little bowl feels wonderful in my hand. I looove wood and bamboo is a great renewable resource for many products, as it is the fastest growing plant in the world. The quality is great. The bowl is attractive. The size is perfect for snacking... or as a baby bowl. :)

So we ordered this for our grandson because we liked the natural bamboo. Unfortunately when it arrived, my wife fell in love with it and added it to her set of dishes for her Charcuterie Tray. It's the perfect size for dips, olives and many other items she likes to serve on her bamboo charcuterie tray. It easily washes clean and is light but very well made. We may have to order another one for my grandson!

This is the perfect snack size bowl and would be even more amazing if it had suction. It's about the size of a hand and is perfect for raisins, nuts, yogurt etc...the portion is perfect. Love the bamboo and this is super easy to clean (dishwasher friendly, but also small enough to just quickly handwash). I would definitely recommend it!

This bowl is very nice! It's small, sturdy and very well made. It's just the right size for feeding babies, or using it as a dish for dipping sauces, or to hold small candies. I love that it doesn't contain any BPA or lead. It comes in very nice packaging and would make for a lovely gift.

This is such a cute adorable bowl. I usually put my son's snacks or small sides in it, and haven't had any issues! The quality is definitely well made and I've noticed NO warping with the wood, cracks, or anything of that sort. I for sure plan to get more because I'm obsessed with how adorable this is.

Very smooth and solid bowl. Great look and very useful. I would not recommend dropping it, but ours has hit the floor a couple of times and is still unscathed.

This is such an adorable bamboo bowl. It's small, but pretty perfect size for infant feedings. Really happy with this.

It is made of high quality material, feels good and looks great. I love bamboo products, they are natural, very safe to the baby and family. Free from plastic, BPAs, and other harmful chemicals. Even though it is not dishwasher safe, it is very easy to clean and dry. The small size is easy to hold in hands and very convenient to use at home or on-the-go.

This is a really lovely bamboo baby bowl. I am actually using this bowl to go along with my charcuterie board. it matches perfectly and is just the right size for olives and such.

I've been wanting to switch a lot of my kitchen items into bamboo. I love the look of this but of course these are a little different and more high maintenance to clean. I love the whole design and the size. It makes a great baby bowl or too put anything small into it.

Cute little snack bowl but has no suction

This is the cutest bowl I have ever seen. It is very well-made, very light, and it feels smooth. The bamboo gives a natural feel. Before placing the order, I knew from the description that it was as small as a palm. But when I got the real thing, I was still surprised by its size. Please be aware that it is really really small (1.5" tall × 4.15" wide). The spoon and fork I bought for kids look big against it. I hope there is a bigger version so that my kid can use it when she grows up.