Description
Classical beauty
Simple and sophisticated, how can those adjectives describe one and the same object? Easily. This watch is a perfect example. Thoughtful engineering combined with a sleek design created this amazing timepiece.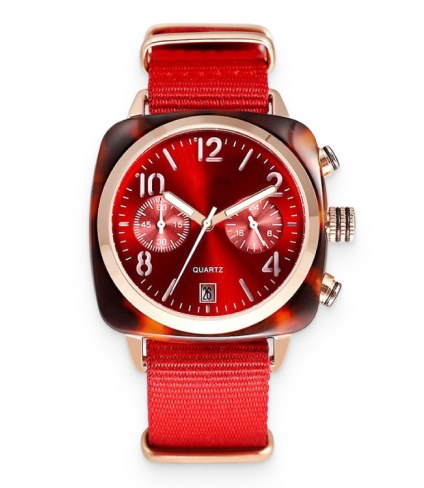 Elevate your look with the timeless motifs
No matter who you are, this timepiece will fit you well
Fascinating troupe of colors
Golden accents, amber-like framing, red strap, and red dial dance together, creating a tandem of colors that looks good on any wrist.
Made from durable materials
The strap is made from durable nylon (which you can easily wash). A plastic case is hard to break and is not demanding. Simple!
3 bar water resistance
It means that the watch can withstand splashes and minor water impacts. But showering or bathing with it will be damaging for the watch.
Product specifications
Strap length: 8.66'' Strap width: 0.78'' Dial diameter: 1.02'' Case thickness: 0.31'' Certifications: CE & RoHS Find the best adjustment easily!
A perfect match
Of colors and shapes. Also, it's a perfect match for pretty much any look: pair it as you would pair any other red accessory, and you'll look divine. A convenient, comfortable, and sleek addition to your everyday life and looks.
This is an excellent and super cute watch. It's grown-up enough that I can wear it with a dress, but it's young enough that it also looks right with my punk t-shirts. The nylon band is very sturdy and also breathable for summer. Some people might not like that the tick is a little louder than some wristwatches, but I find it soothing.

This watch is even better than I had hoped. The face of the watch is larger than I realized when I ordered it, but it is great. It is comfortable to wear and the juicy red color band is very attractive. I have received several compliments on the look of the watch and the band.

I loved this watch. I loved everything about it; the colorful strap, the bright face & the big numbers. I have just one note of caution, however. Careful with the watch face. Total goof on my part. I didn't measure it and the watch is wider than my skinny wrist.

Beautiful! :) I ordered this for my Mom, because she needed a new watch. She saw this one and knew she had to have it. When it arrived, she got the biggest smile on her face and practically squealed like a little kid on Christmas morning.

I was worried that the face of the watch might be too big for my wrist, but it was just right. Maybe a little bigger than what I used to, but I like that, because the numbers are big enough that I can easily see them.

This watch is great. Casual, easy to read. Trendy oversized face. Very good fit. This is adjustable to fit any wrist. Worth every penny spent on this watch. Delivery was super fast, too. Thank you!

Bought this for my wife and she loves it. The dial is clear and easy to read. The watch has solid build quality. The nylon strap is of good quality. For the price I don't think you can go wrong.

Super easy to read, even without glasses. Easy to peek at the time when you are supposed to be paying attention. I like the lightweight strap, plenty of holes so will fit most size wrists.

I got this watch for school, I'm a vet tech student. And it works great and fits my tiny wrist. I am always washing my hands or getting some kind of liquid on it and it did just fine.

Love this watch. The nylon band is very comfortable, flexible, and has a large range of buckle holes to fit a variety of wrist sizes.

Great purchase! I needed a sporty watch, and this is perfect. Easy to read, a good size dial and comfortable to wear.

Oddly, I need my glasses to read the numbers during the day. No big deal, just thought I'd mention it.

I love my new watch! I enjoy this style. I have gotten so many compliments from friends. So happy with my purchase!

It is a great watch! It's on the bigger, chunkier side which is what I was looking for.

Very easy to read. Slightly larger than a standard watch, and a cute wristband

Easy to read at a glance and I love the band. Keeps accurate time and so far.

I have to give this watch three stars because I don't like the band.

Beautiful watch in person. Have received many compliments!

I feel like the straps that come with this watch don't do it justice.

Beautiful little watch. I love the breathable nylon band.

I really enjoy wearing this watch. Very attractive.

Cute overall, but the band is weird

It does not meet my expectations

Great piece for everyday use.

Good casual/weekend watch.