Description
Much more than your ordinary dopp kit
Keep all your belongings in one place
A stylish dopp kit that will be the perfect addition to your elegant look. Not only will it compliment your look, but also serve as a faithful companion during your travels.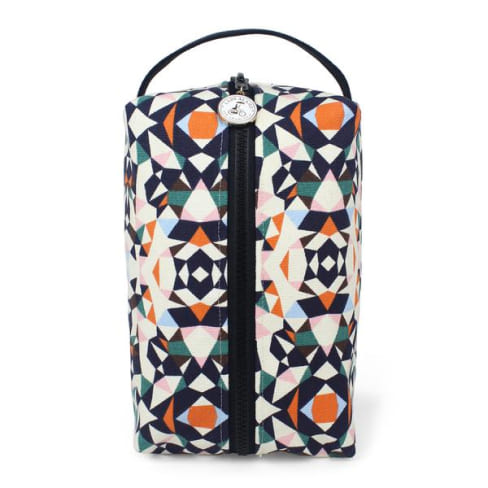 Box zip details and specifications
Large enough for all your essentials
The measurements
The kit is proudly made right here, in the United States of America. It has the following measurements: 5.25" W x 3.25" H x 9" D.
Kit materials
Shell: 100% cotton. Lining: 100% nylon. Water repellent nylon lining. Logo pull charm
How to take care
You can machine wash it in cold water with similar colored clothes. Don't use any bleach.
Dry it up and go!
Line dry it outside to make it look fresh. After, simply warm iron it if needed and it will be as good as new.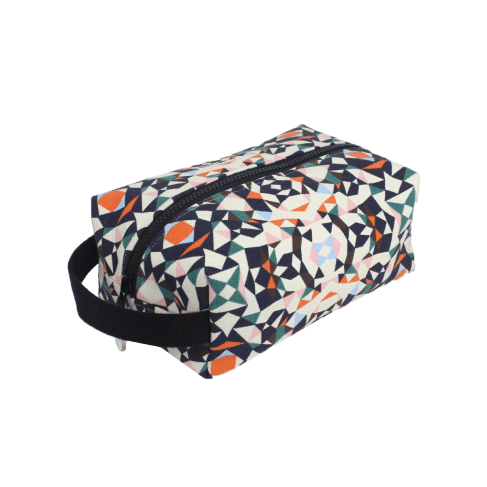 An essential piece with a great design
Need to bring all your stuff on the go? The perfect accessory for storing all your cosmetic accessories. Travel in style with your vibrant Box Zip. A classic dopp kit style that is anything but ordinary, with an exceptional kaleidoscope design, it will elevate your look in the best way possible.
About Lady Alamo
Lady Alamo is an accessories brand based and manufactured in San Francisco. Since 2011, we have been on a mission to bring joy to people's everyday lives with original prints & vibrant colors. In 2011 wife & husband team Yiva & Bryce began printing and sewing bags out of their tiny apartment in San Francisco's Alamo Square neighborhood, home of the Painted Ladies (Alamo Square + Painted Ladies = Lady Alamo). Having since moved into the City's Mission District, the commitment to producing locally and finding happiness through design remains. At Lady Alamo we strive to create everyday items that bring joy with each use. Focusing on natural materials, versatility and of course color, we've created a variety of Zipper Pouches, Backpacks and Reversible bags that you will want to show off every chance you get.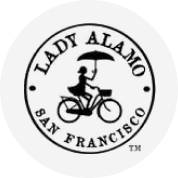 Designed In
San Francisco, California
I like the pattern and colors of this bag.

cute small bag, perfect for what I needed

This is a great little case for whatever you need.

This is a very cute little bag and just what I was looking for.

I get so many compliments on this bag, and I've recommended it to everyone!

Totally cute and inexpensive!

not what I expected but the quality is nice

Nicely made and colorful.

This little bag is so adorable.

Perfect. It is a great size

This is super cute and it is true to the colors in the picture.

good quality but pricey for me

This is a nice little bag. The zipper is fine and it is well sewn.

This bag is too cute. I really enjoy it for makeup and travel, and it would work great as a pencil case as well.

Great make up bag for the price. I didn't want a huge make up bag and this you can interchange pending on your mood and the price is great

This bag is wonderful! Zipper is sturdy and the canvas is very durable. I wanted a bag to organize my backpack purse. This is wonderful - not too big nor too small.

I just got my pouch! I love it, and the colors are very pretty. Made from durable fabric, too. This would be nice as individual gift with things like a nice pen/pencil set and a notepad

These are ridiculously well made! The canvas is very thick and they hold a lot. Would purchase again for sure!

I thought that these bags would be cheaply made but they are very high quality, despite! I was pleasantly surprised. This is one of my favorite purchases to date. I love them and they are perfect for holding my crochet needles.

I'm honestly surprised at the quality of these cute little bags. I wanted them to hold my makeup, another for my pens and the last one for lotion, hand sanitizer etc. These are super adorable and very well made. I've only been using them for a couple weeks but I'm pleased with how well they seem to be working. Would buy again!

So I originally purchased this to use as a pencil pouch. However I've been using them for my makeup, organizing my purse and other things. I've gotten numerous compliments and will purchase things again. They make a wonderful makeup bag and are definitely worth the money.

Love. Great deal. I keep three in my purse- one for pens, one for my essential oils, and one for small stuff that I tend to lose in the bottom of my purse anyway- gum, earbuds... It means my purse is always clean and I have an easy time finding everything. They're cute and well made.

I love these bags. This is exactly what I needed to store my dog's insulin supplies. Fits perfectly in one of the bags and looks cute. I plan to use one for cosmetics and the other two to organize small items in my purse. The quality of the bags is good. The material and zippers seem to be durable. I had been looking for just the right bag for a while and I ended up finding four! Glad I found these.

I bought these originally to store pens but ended up using these to hold other small things like keys, essential oils etc. The prints are bright and colorful. The quality is nice and with the 4 pack I was able to share the rest with my family. Certain name brand pencil pouches can be pricey so I am glad I came across these. I will purchase more of them in the future as small gifts.